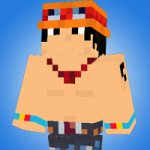 1. Odakle potječe tvoj nick?
U 6. razredu je prijatelju i meni bilo dosadno pa smo radili naš anime (nemojte se smijati), a likovi su bili napravljeni po prijateljima iz razreda i tako se onaj koji je napravljen po meni zvao Tranchory.
2. Od kada igraš Minecraft?
Od bete 1.5_01 :D.
3. Sjećaš li se svojih početaka i imaš li neku zanimljivu anegdotu?
Samo se sjećam da sam probao napraviti veliki fortress kao kuću i na kraju je ispalo grozno. Za anegdotu se sjećam da nisam znao da u igri ima skeletona pa kad sam ga prvi put vidio sam mislio da je to yeti (neznam ni sam zašto) i uplašio sam se kad me pogodio (nisam znao što se događa) xD
4. Što najviše voliš raditi u Minecraftu?
PvP-at i preživljavati.
5. Koji je tvoj najbolji projekt do sada?
Moj privatni server ( za 3 igrača) na njemu smo napravili svašta: selo, vilu, "Tree of life", svjetionik, farme, podzemne puteve, dvorac, svašta.
6. Tko je tvoj uzor u Minecraftu i zašto?
AntVenom, samo zbog njegovih PvP skillova 😀
7. Može li te nešto naživcirati u igri?
Itekako, najviše skeletoni, creeperi, grieferi, lava i kada se ugušim u zidu.
8. Da možeš, što bi izmijenio u Minecraftu?
Nebi ništa mijenjao, samo bi dodao više bioma, mobova i bossova.
9. Što trenutno radiš na HCL serveru?
Gradim sa Brkom na gradu za seljake i našu podzemnu bazu.
10. Igraš li nešto osim Minecrafta?
League of Legends, Team Fortress 2, Bioshock, Wind waker i Pokemon Fire red.