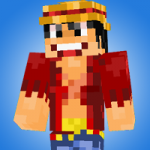 1. Odakle potječe tvoj nick?
Hmm? Odakle? Pa, kad sam počeo igrati Minecraft igrao sam s nickom 'Andjelko'. Kad je došlo vrijeme za kupiti premium account, shvatio sam da je taj nick pomalo djetinjast i odlučio sam se za nick StrawHat. Kako je to bilo zauzeto dodao sam par random brojeva na kraj

2. Od kada igraš Minecraft?
Nisam siguran. Rekao bih od kasne alphe ili rane bete.
3. Sjećaš li se svojih početaka i imaš li neku zanimljivu anegdotu?
Baš se ne sjećam svojih početaka jedino što znam je to da sam igru zavolio na prvi pogled. Isto tako igranje na HCL serveru bilo mi je prvo multiplayer iskustvo u Minecraftu. A sad anegdota? Sigurno ste svi čuli za Antempire. Kad sam stigao sve je bilo super, divno, krasno, no jednoga dana, Antkiller, vođa fakcije nas je napustio. Tko je postao novi vođa? Ja! Za vrijeme moje 'vladavine' Antempire je bio krasan, a to će vam potvrditi gotovo svi. Uglavnom, fakciju više niste mogli prepoznati



4. Što najviše voliš raditi u Minecraftu?
Najviše volim raditi skladišta za chestove.
5. Koji je tvoj najbolji projekt do sada?
Ogromni grad s velikim stablom u sredini, kojekakvim redstone napravama, 'vlakovima smrti' itd. Još dan danas nisam prežalio izgubljeni svijet.

6. Tko je tvoj uzor u Minecraftu i zašto?
Nemam uzora u Minecraftu ali tu i tamo volim pogledati koji zanimljiv video ili redstone kreaciju (SethBling, ItsJerryAndHarry, HatFilms..) .
7. Može li te nešto naživcirati u igri?
Naravno. Bugovi, igrači, login serveri, Mojang.. mogao bih tako do sutra.
8. Da možeš, što bi izmijenio u Minecraftu?
Dodao bih više života u igru (životinjski svijet) i možda koji item iz tekkita.
9. Što trenutno radiš na HCL serveru?
Uređujem bazu, ali kako nisam previše kreativan obično se igram s tnt-om

10. Igraš li nešto osim Minecrafta?
Ponekad s frendovima igram SAMP. Ništa drugo, tu i tamo koja igra na emulatoru